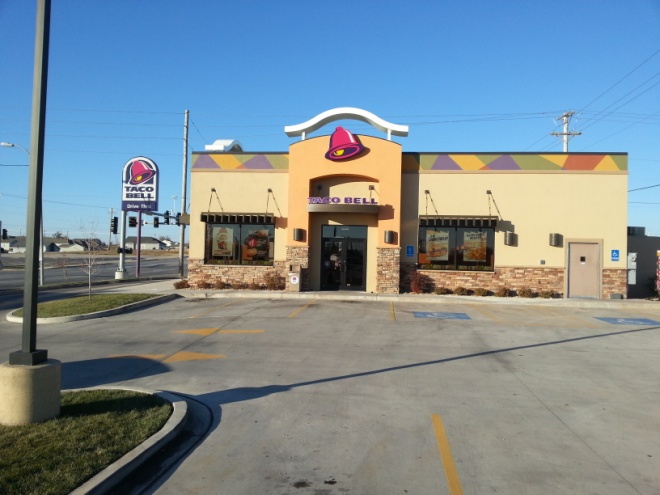 Taco Bell
Taco Bell has been a mainstay at the southeast corner of 26th and Main for nearly 3 decades.  After the May 2011 Tornado destroyed the restaurant, ownership decided to rebuild at the same location on an expanded footprint.  The restaurant originally operated on only 2 lots at the intersection, and then acquired a third lot during pre-storm upgrades.  The storm provided ownership the opportunity to aquire 3 additional lots to the east of the restaurant,  which were previously single family residences.
Small Arrow Engineering was engaged in Spring 2012 by Confederated Builders of Wichita to develop a new Site/Civil design incorporating the expanded property limits.  Small Arrow Engineering worked with the City of Joplin to vacate the alley south of 26th Street between Main and Virginia Ave. so the new restaurant footprint could utilize this space for a new drive-thru lane.  Small Arrow Engineering also coordinated with the City to implement the new development standards for the Main Street corridor, which included shared access with the neighboring property to the south,  access management of the entrance to the north on 26th Street, and creation of a buffer area to the east along Virginia Ave.  This buffer was developed as a "Pocket Park" and landscape area with outdoor seating and sidewalks, which is now adjacent to new home construction in the residential area.
Additonal design elements for the restaurant included utility relocations to allow for alley vacation,  a water quality strip along the south side of the property which will be shared with the nieghboring development, ADA pedestrian access along Main Street and Virginia Ave., expanded patron parking spaces, development of tempoprary erosion control measures with a MO land disturbance permit and a SWPPP for EPA purposes, and a Greenbelt between 26th Street and the building, to allow for a future street widening project.
Categories: Civil Projects