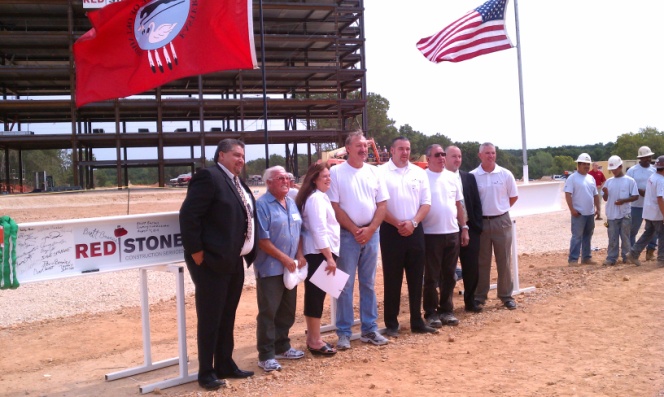 Red Stone Construction
The Eastern Shawnee Tribe of Oklahoma (ESTO) has a long history of gaming at the Bordertown Casino at the Oklahoma/Missouri border near Seneca, MO.  When the tribe needed to expand their operations and offer hotel accommodations, they acquired a parcel at the intersection of Hwy 60 and 60 Business just southwest of Seneca for a new Casino/Hotel complex.  The tribe selected Redstone Construction Services to oversee this $90mil design-build effort along with Thalden Boyd Emery as the project Architect.
In early 2011, Redstone Construction engaged Small Arrow Engineering to provide supplemental site engineering services, including development and oversight of the extension of a 12 mile long natural gas pipeline to serve the complex from Oklahoma Natural Gas (ONG).  Small Arrow Engineering designed a portable Synthetic Natural Gas (SNG) system to supply the complex under construction and while the pipeline extension was completed.  This extension allowed the Tribe to not be subject to volatile pricing spikes from sole dependency on propane.
Small Arrow Engineering was also engaged by Redstone Construction to provide Site/Civil support for development of a gravity sewer extension and connection back into the City of Seneca, MO waste water treatment plant, to eliminate the need for on-site treatment facilities.  In addition, Small Arrow Engineering performed access studies along Hwy 60, developed permit widening plans, assessed and provided measures to improve the on-site water wells, storage tank and water distribution system, coordinated permit reviews and approvals with Dist. 6 personnel of EPA, and prepared master plan sketch plans with the project Architect for a future travel plaza and outdoor amphitheater.
Project Contact- Lance Gopffarth, Exec. VP, Redstone Construction Services (918) 747-7410
Categories: Civil Projects