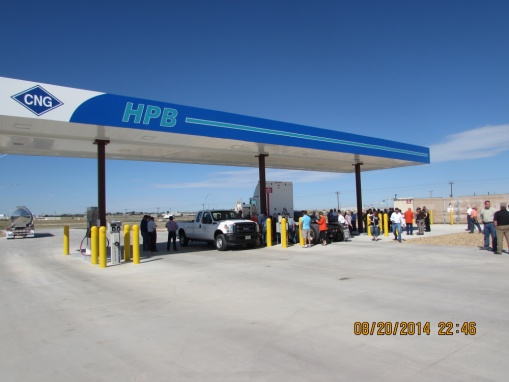 Seaboard Foods Master Land Use
In early 2012 High Plains Bioenergy, a subsidiary of Seaboard Foods, decided to begin an effort to convert their diesel based HD truck fleet to compressed Natural Gas (CNG). Small Arrow Engineering was engaged by High Plains Bioenergy to design and oversee construction of the Seaboard Live Haul CNG facility in Guymon and at the Seaboard Feed Mill in Optima, OK. Over the next 2 year period, Seaboard converted approx. 200 HD trucks and 75 pickups in their fleet, and determined the time had come for additional capacity at a Public Access Station.
In summer 2013, Seaboard Foods purchased a 70 acre undeveloped parcel directly across Hwy 54 from their Processing facility and the High Plains Bioenergy Biodiesel Plant. Small Arrow Engineering was again engaged by High Plains to develop a Master Land Use Plan for the parcel, and establish a Public Access CNG station that other improvements could be built around in the future. The Master Plan was developed to be truck friendly, with wide large radius access points and long driveways. A traffic impact study was performed to determine traffic signal warrants for the newly created intersection along Hwy 54 at the main Plant entrance, and now the Public Access CNG Station. The traffic study also considered trip generations with installation of a future truck stop/C-Store, truck service center, future restaurant/hotel space, and potential multifamily housing along the eastern portion of the parcel. In addition, the Master Plan incorporated a regional stormwater detention basin into the western portion of the site, in order to meet City requirements when the property is annexed into the City Limits. Finally, the Master Plan also included provisions for extension of utilities to the site (overhead Electric, Phone, Fiber, City Water, Sanitary Sewer, and Natural Gas).
Small Arrow Engineering developed construction plans and specifications for the new Hwy 54 access and CNG Station on the site and in early 2014, the installation work began. The Public Access CNG Station opened for business in August 2014 and is now one of the largest capacity CNG Stations in Oklahoma (1600 SCFM compressors can produce about 700 diesel gallon equivalents per hour). Total CNG Station budget was approx. $3mil before consideration of State of Oklahoma State Income Tax credits. Seaboard Foods continues with their fleet conversion plans, and expects to have 600 HD trucks and 200 pickups on CNG within the next 5 year period.